A message from the pastor: 8/15
Announcements:
"Christ's followers have been redeemed for service. Our Lord teaches that the the objective of life is ministry. Christ Himself was a worker, and to all His followers He gives the law of service-service to God and to their fellow men. Here Christ has presented to the world a higher conception of life than they had ever known. By living to minister for others, man is brought into connection with Christ. The law of service becomes the connecting link which binds us to God and to ur fellow men. To His servants Christ commits "His goods'- something to be put to use for Him. He gives"to every man his work" Each has his place in the eternal plan of heaven. Each is to work in co-operation with Christ for the salvation of souls. Not more surely is the place prepared for us in the heavenly mansions than is the special place designated on earth where we are to work for God."  Now more than ever, it's time to determine to serve God no matter what!
Here's what you need to know for this week:
Sabbath School and Worship: will be conducted via Zoom. Sabbath School is from 10:00 to 10:50 and Divine Worship begins at 10:50 to 12:30. I look forward to seeing you. The meeting ID# 835 7184 1275: or telephone# 1.301.715.8592. All connection information and  schedules can be found on the home page. Enjoy!
The Pastor and Elders Will Be At The Church: We will be at the church until 1:15pm for you to receive you New Sabbath School quarterlies, return your tithe and offering or get tithe envelopes or to accommodate other needed functions of the members and friends of the church.
NOW MORE THAN EVER IT'S TIME TO PRAY! Fasting and prayer every Wednesday from sunrise to noon and Prayer Meeting every Wednesday on ZOOM from 7:00-8:00p
Thank you for your faithfulness in Your Tithe and Offerings: Can be dropped off at the church during the time the pastor and elders are at the church, until approximately 1:15p. If you need tithe and offering envelopes, please let us know and we will bring them to you or send them to you in the mail. There are other ways to return your tithe and offerings.
(1) Online Giving
(2) Mailing it to P.O. Box 961779, Riverdale, GA 30296
NOTE: PLEASE DO NOT SEND CASH
(3) We will come pick it up from you, just call or text us. 
Thank you for your faithfulness. Stay strong in the Lord. Trust Him. His promises are real. I share this one with you this week. Matthew 6:33 "But seek ye first the kingdom of God, and His righteousness: and all these thing shall be added unto  you"
Thank You For Your Prayers, calls and text to check on everyone and stay in touch. We're family! We love each and everyone of you, We are praying for you , and we are here for you. We want to hear for every member to know that you are alright and be sure you are not alone in this time of crisis.
A South Atlantic Conference Townhall Meeting will be held today at 4:00pm see flyer below for details.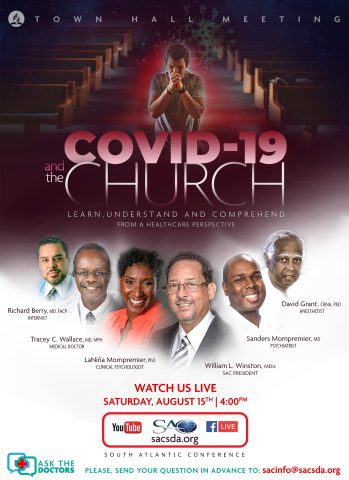 Older announcements:
6/27/20
6/20
5/16/20